Education and Outreach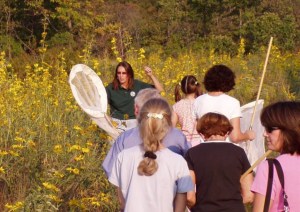 Education and Outreach
Sharing information with landowners on how to become better stewards of the Bay in their own backyard
Chesapeake Wildlife Heritage=s Education and Outreach Program provides landowners, businesses, schools, civic and community groups, and other interested groups with information about the variety of local wildlife and wildlife habitat in the region. Most of the education that is provided by CWH occurs one-to-one during a site visit to a landowner=s property. During these visits, a wildlife specialist can discuss with the landowner the many possibilities of suitable habitat improvements for a specific site. Once the interests of the landowner are determined and the property is surveyed, a management plan is developed and CWH works with the landowner to implement the plan. We also work with the landowner to provide long-term management of the site.
Guided tours of CWH=s Bennett Point Farm in Queenstown, Barnstable Hill Farm on Kent Island, Canterbury Farm in Easton, and/or other significant habitat restoration sites are often the most effective ways to help landowners understand how and why CWH restoration projects work. Seeing Northern Pintail on a restored wetland or ground-nesting birds in a warm-season grass meadow illustrates the benefits of habitat improvements and how critical they are for wildlife.
In addition to numerous site visits and management plans developed in 2013, the CWH Education and Outreach Program also presented lectures to numerous homeowners' associations, special interest groups and garden clubs on topics such as warm-season grass meadows, backyard habitat, bluebirds, and butterfly gardening and participated in activities on Earth Day at Sudlersville Elementary School.